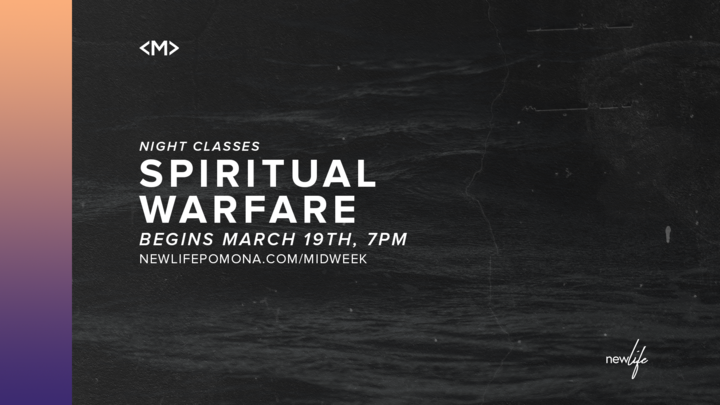 NIGHT CLASSES - Spiritual Warfare
March 19 - May 7, 2019
$40
Dates & Times
Mar 19, 2019

7:00pm - 9:00pm

Mar 26, 2019

7:00pm - 9:00pm

Apr 2, 2019

7:00pm - 9:00pm

Apr 9, 2019

7:00pm - 9:00pm

Apr 16, 2019

7:00pm - 9:00pm

Apr 23, 2019

7:00pm - 9:00pm

Apr 30, 2019

7:00pm - 9:00pm

May 7, 2019

7:00pm - 9:00pm
Details
God has called Christians to overcome the world and drive back the forces of evil and darkness at work within it. Spiritual warfare isn't just casting out demons; it's Spirit-controlled thinking and attitudes. Pastor Heather delivers a no-nonsense, both-feet-planted-on-the-ground approach to the unseen world.
Learn the doors of sin that open up darkness and give the enemy permission to dwell in our lives, how to repent, close the door, and walk in freedom.
The course begins March 19th and runs weekly at 7pm for a total of 8 weeks.
It is open to anyone of any age, and the only requirement is that you pay the registration fee of $40 which includes all the required course materials.